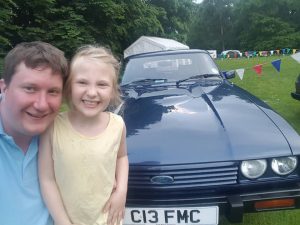 Hi everyone, I'm Gareth from Newcastle-under-Lyme. I work for a large car dealer group but concentrate on the Honda part of the business.  A manufacturer I have equal passion for as I do Ford.   I live with my partner Daniella and our two young daughters, Kayleigh and Sienna.  My girls are all enthusiastic about my Capri, with Kayleigh (my eldest) regularly accompanying me to shows.
My car is a 1985 1.6 Laser that I've owned for 11 years.  It was a bit of a spur of the moment purchase that to this day I've never really fully understood.  I had never thought about owning a Capri before that fateful day, nor even shown a mild interest in them.  The car itself is pretty much as it left Ford due to my refusal to change anything from the standard specification.  Over the years I've simply tried to keep it as clean and tidy as possible.  Which included a (unnecessary to be completely honest) complete bodywork overhaul and respray in 2013.
I've been a part of Cheshire Capri Club since day 1 and I'm very proud of what we have achieved in what is relatively speaking, a short space of time. What I feel makes this club unique is it's members, or friends as I more consider them.  I know that I can rely on my Ford friends for anything at all, not just Capri related.  There is a real sense of togetherness which is something really special for me.  While at the various events that Cheshire Capri Club attend throughout the year, I love nothing more than having a beer with my mates while we try and put on the best Capri display that we can.  Visitors to our stand are always invited to get up close to the cars so they can reminisce or maybe even introduce their own children to the car you always promised yourself.