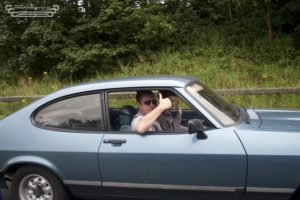 Hello, I'm Alan and I'm a self-employed electronic engineer from Stockport Cheshire.  I'm a happily married father of 6 and with the little spare time I have, I enjoy camping (which is very useful for a club like this) and restoring and repairing classic cars.
I currently own 3 Ford Capris, with only my low mileage 1.6 GL being on the road (the other two are in a state of procrastination!)
For the past 4 years I have organised and held my own Classic Car Show in my local village to fundraise for charities that are close to my heart.  Cheshire Capri Club has always fully supported me with this event which I am always so grateful for.
I believe this club isn't just a club and the members aren't just members.   When you're in this club, you become part of a solid unit of friends. It's brilliant that I get to share my love of cars with people who are just as passionate about them as I am.  I'm happy to try and help other members where I can with any technical aspects of their Capri if they get into difficulties.
Thanks for reading this
Alan