Tatton Park June 2017 – Show Report
So here it is – Tatton time again! Thank goodness, it seems an age from the shows at the tail end of last year until the season starts again, but you know that when Tatton comes around the show season is in full swing.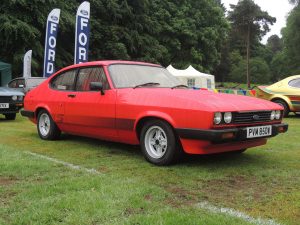 The big surprise for many of us this time around was the brand new gazebo which we were all treated to. In fact calling it that is an injustice, it is more of a marquee. Our club has always been top notch with its facilities, and the previous shelters have been brilliant. But this one is really fantastic. The weekend weather ensured that it was tested to the full, it remained totally dry, and sheltered from the wind due to being enclosed on all sides, and it even has windows. Great addition to the club Mike, it proved to be spot on with its maiden voyage.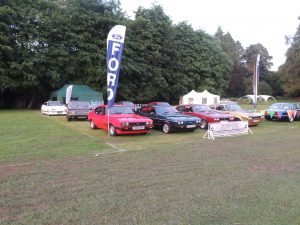 Having shown many times (including at Tatton) with a club which has virtually no facilities or shelter (when it rains all you can do is dash for the car and sit and wait in there until it stops. It can be a long day if it does nothing but rain!), certainly makes you appreciate what this club provides for us all, I'm sure that we all feel the same.
As with many club members, we stayed over for the weekend, and visitors to our stand over the course of the two days would have been treated to the ever attention grabbing golden Mark 1, the superb top ranking 3.0S, white and red (this being the only automatic of its kind) Tickfords, a red 2.0S, a GL, three Lasers, a Zetec engined Mark 1, a Brooklands and two 2.8 Injections. What a superb selection of Capri's that is!
I believe that Mark won yet another award for his 3.0S. Well done Mark! No one would dispute how well deserved the awards are for such a great car. You must be on the lookout for a larger trophy cabinet by now Mark.
Like many I tend to think that the Tatton shows have the same people exhibiting as well as visiting time and time again, but Gaz's aforementioned custom painted golden Mark 1 dispelled that thought as I heard numerous times (as I have done at previous shows) the gasps of amazement as people wander over to take a closer look. As Gaz is one of the clubs longest serving members and has shown the car time and time again at this show, it can only mean that many are seeing it for the first time. It's good to know that new faces are appearing at the shows.
Special thanks are in order to Gaz, for taking the time and effort to cut the grass for us all. Although the weather was glorious for the most part (some of us even leaving the weekend with a tan!) the rain wasn't shy in making an appearance here and there, and spending hours in long wet grass is not something we would wish for. And not only that, leaving the cars in that long wet grass all day, or all weekend can never be a good thing with having the underneath soaking, so freshly cut grass is far better than we might think. And it's a fair sized pitch which we have too. I am not sure where Gaz lives exactly but I'm quite sure he doesn't live at Tatton Park so he has to make the journey and hike his gear over there to do this for us. Once again – thank you Gaz.
And speaking of new faces, we had two new members with us. Firstly Kevin, showing his customised 1.6 Laser with us for the first time. Such a great colour, which I shall describe (probably incorrectly) as a deep burgundy, not too often seen on a Capri. By coincidence, we live very close to Kevin, within walking distance really, and although you tend to be familiar with other Capri's which live close by, we have not been aware of each other's cars. I expect that shall now change. And we also had Anupam with his lovely early 2.8 Injection making their debut at a show with us, who some of us met at one of the club nights at our usual meeting place, The Windmill recently. It was brilliant to welcome and meet and greet new members as always. And we hope to see you and your cars at more of the shows of course.
The Saturday evening had our usual high level of debauchery, I mean enjoyment. At one point there appeared to be some sort of dancing ritual (I think I may need to bribe somebody due to the rumours of video footage being taken), fun, laughter and a great time overall. I was climbing trees at some stage although I don't think Tarzan has anything to worry about. We were planet spotting too (no, it wasn't Uranus) although I don't think Patrick Moore would have had anything to worry about either.
Thanks again to Chairman Mike and Millie for arriving early to begin setting up and bringing such a vast amount of club resources. We had a fantastic meal of stew/scouse/hotpot/casserole (delete as appropriate depending on where you come from) very tasty indeed, many thanks to the chef. Tony (red 2.0S) was also an early arrival to lend a hand, as of course everyone did as they gradually arrived on the Friday.
Yet another great weekend, see you again at Tatton in August!
Paul.