PASSION OF POWER
6th – 7th APRIL
This truly is a "where do we begin?" story so let's start at the very beginning.
With this being the first and most and most proceeds show of the session (as it's our only indoor show).  Preparation needs mentioning
With most people spending 2 – 3 days preparing the cars for a show, myself Ross (Pikey) Lansom, Mike (the Messiah, the Savior of Cheshire Capri Club) Hargreaves and Alex (the boy) Evens, spent 5 months preparing for this show.
Brief run down of the brand new purpose built indoor stand
12 Blue box towers measuring a foot square and 2 feet tall
12 red planks off wood 3 inches by half an inch in various lengths
10 stainless steel tubes
2 tons of white 6mm stones
It would be laid out as follows:
The stand split into 3 thirds with green carpet on the floor in the middle and a mirror image on each side of the towers coated by the planks of wood on all 4 sides and the tubes on the outer sections on the stand in-filled with stones. With everything acquired and the cars picked and positioned what could go wrong.  (The stones were to be collected from a local supplier on the day)
The cars were to be laid out as follows
On one side
Simone (Mr G) Boothroyd with his 'G' Reg 280
Saturate (Ruby Tuesday) Holmes with his Ruby Red mk11 2.0s
Eric (Posh Eric) Attwood with his panther black modified 2.8 injection special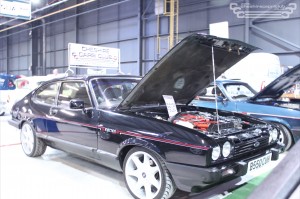 In the middle the centre attraction Ian (Mr Bellevue) Bragg with his Ex G.M.P traffic car with lights flashing
And on the other side
Mike (the Messiah) Hargreaves with his white Tickford nose in to the stand
Andy (Posh Andy but Not as Posh as Posh Eric) Thornton with his cartel body kitted 2.8 special rear in the stand
And finally John (J.C.) Cristini with his Red Tickford Auto nose in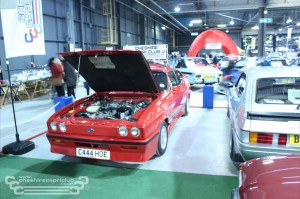 Mike decided that the stand was taking up too much time and space to bring his car so he asked J.C. to bring his white Tickford as well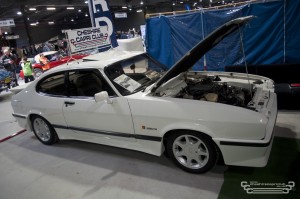 Well the first thing to go wrong was Mr B@llend Bellevue SOLD the police car and wanted to bring his new toy, a 280 with a Chevy V8 in it, instead! As it was only 3 weeks to the show and no one had seen the car the answer had to be NO. What to do now for 5 months the stand had been shaped around the police car. New plan, put Ruby Tuesday in the middle and bring Posh Eric and Mr 'G' nose to nose. With not a lot of space maybe the loss of the police car was a blessing in disguise.
Friday morning arrived; I got to Mikes for 7ish as arranged. We had given ourselves 2 hours to get the trailer out and load up Penny Pickup; Mrs Messiah was making bacon butties.  On arrival at Mike's, things started to unravel: the guy that Mike had bought the Tubes off had gone AWOL and left us no tubes! Remembering the 10 miles of white chain that Mike fetched to every show, this problem was quickly resolved.  But worse, much worse, was to come. Mrs Messiah was feeling a little delicate and might not make the show.  "Don't worry " I said "it means more booze for you and no nagging". "You're right, but no bacon butties" came Mike's reply!!! Well this should have been the let's forget everything moment, but no, for the sake of the club we solider on. I with Penny Pickup towing Mikes 50 ton trailer and Mike behind in the Noddy car.  1 mile before Burtonwood services on flat ground there was a noise and a slight thump like a fly farting, or was it my tummy rumbling? The engine revved and Penny lost speed.  We coasted on to the hard shoulder (It would later transpire that the pickup had ripped all the teeth of the lay-shaft in the gearbox, poor Penny Pickup).  On the hard shoulder and with no recovery panic set in. I then had an idea and rang my good mate at International Rescue (Edgerton's Recovery) who pulled some strings and got us pulled off the motorway, but where to go at times like this? There's only one thing to do: I picked up the phone and took a deep breath! (Mummy I need help, Mike broke MY pickup and I have nowhere to go). As she lives only 2 miles away we had a place of safety sorted.  After 5 days of frantic calls (probably only 5 mins).  Mr B@LLEND Bragg (after all he had cursed all this by selling the police car in my eyes anyway) came through. Come and get my pickup he said. Plan 'B' go from Warrington to Levenshulme to get Ian's pickup in the Noddy car, then back to Warrington, get the trailer, then to Liverpool to drop the trailer off, then back to Levenshulme to get the Noddy car and finally on to Event City 3 hours late and no stand, but at least we would make it and still have stunning cars to show. At this point Mike said "do you think we should tell Ian he can fetch his new toy". "Yes" I replied "it's the least we can do under the circumstances".  So we took a gamble on a car noone had seen and asked him "Great, no probs" he said "I'll just have to M.O.T her and throw some tax in the window.  No time to waste must go see you soon". WHAT HAD WE DONE!!!!!!!
We found Ian's yard and spotted his 3.0 s in shell form as we walked in to the garage we were greeted by what can only be described as a wailing Banshee as Ian and his 5.7 litre Chevy V8 powered 280 screamed past the workshop doors sideways!! As he climbed out with a smile on his face the Cheshire cat would be proud of "it don't half go well" he said.  What greeted us was one of the most professionally built Capris I've seen.  Today was looking up
We headed back to Warrington, with us both clicking that Event City and my mum's were not that for apart, maybe, just maybe we could salvage something from this.  With Mike at the wheel of Ian's pickup and me calling "The Boy" to see what he thought.  Alex blows up on the phone, Mike screamed and yanked at the steering wheel so violently that I head butted the side window! Very concussed and trying to take stock at what had just happened had Alex really just screamed down the phone at me and what had made Mike react the way he had?  It turns out that when Alex throws his toys out of the pram he throws them hard!! With his rattle making it all the way from Event City to Warrington with it on a collision course for Ian's pickup, Mike had soiled himself and taken evasive action
Plan C: Go from Warrington straight to Event City with the stand, leave the trailer in the compound, Mike to go back to Bellevue for his Noddy car, Mike then to go home to collect Mrs Messiah (think she might just be allergic to cooking bacon butties) and then meet us as at the B & B
What could go wrong now?
We rolled in to the backyard at Event City and for 5 mins Mike chose to block everyone in while I went to find our stand then guide us in. I found the stand and Mike walked up behind us. The first thing that struck us: the team of p!ssed off men who had by this stage been waiting for 4-5 hours for us, and then I asked "Why are you all on the wrong stand?" "We are not" came the reply, "yes you are, our stand is not this big!"  We had been given the wrong stand size! So after all this the stand did not fit the floor space. Right let's make the most of a bad situation! Mike went for the pickup 100 yards away in a straight line! Why is this relevant? He managed to lose Ian's pickup key in such a small space!
With the stand now set we made are way to the B & B.  With the B & b resembling something from Fawlty Towers we went for a pint.  With tensions still high things started to calm down as the beer started to flow, but after what turned out to be a misunderstanding, the couples went out without the group of lads!  This was the final straw, with 2 of the club deciding to react: George Forman and Mohammad Ali's famous  Rumble In The Jungle – only a drunk and far more camp version! With calls of "this club stinks" and "when I get home I'm selling the Capri". The night ended on such a low it was tickling the devils toes!!!
Saturday started with just as much tension, with lots of school playground talk of he started it, he said this and he said that it was quite obvious Cheshire Capri Club was finished. When we got in to Event City and prepped the cars members were helping each other remove and fold car covers and giving each others cars a wipe down the situation was starting to ease.  Then at lunch time Posh Eric, the father, was met by Posh Ste, the son, but Posh Ste the son was also Posh Ste the father as Posh Aston was with him (we think his brother will be called Posh Martin) so we had Posh Aston the son and grandson, Posh Ste the son and the father but not the holy spirit and Posh Eric the father and great grandfather! (sorry Eric I know you're not that old you just look it).  Some cracking photos were taken of the 3 generations of Cheshire Capri Club, with last nights antics told to Posh Ste and him trying not to laugh, the ridiculousness  of last night set in with the warring party's shaking hands the rest of the day was enjoyed by all.
On returning to the B & B the club went out together for something to eat and a good night was had by all, with calls for the boxer's to go and get a room as they were getting on so well
Sunday saw little to report: only happy moments, some tired people and the only notable thing to report from the show was that I went up to collect a trophy for the stand off an impostor he was not The Stig, he was my shorter Mancunian cousin.
With the stand packed up  mike and I took his trailer back to Liverpool, put it away (for those of you who have not been to Mike's it needs knocking down and rebuilding in such a way you can get a trailer in with ease. Tight is not close to mark on how it fits) we then called at mine to grab the wife's car on the way to drop the pickup off, with Ian's pickup back, using the spare keys I dropped Mike off and at around midnight I rolled back in to my house as I cracked a can to reflect on the weekend Cheshire Capri Club had gone from the brink of destruction to quite possibly the strongest it's ever been. It was at this moment I remembered poor Penny Pickup on my mum's drive with the gearbox hanging out but that as they say is a story for an other day
This is your roving reporter Pikey signing off see you all at Smallwood