Eric Attwood – Mk1 '2000GT' & Mk3 2.8 Injection Special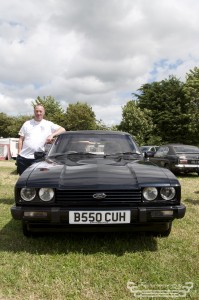 Eric is the proud owner of these two stunning Capri's. Both are modified and and feature some beautiful custom touches. Eric has been with the club from its humble beginnings and has attended many shows over the years! If there is a Cider knocking around I'm sure you'll find Eric nearby! A plastic Scouser it is often hard to understand what hes saying when hes mid flow convo with Mike!
Eric was once the proud owner of what is now JC's White Tickford, if only it wasnt for them meddling kids he would still have it! Im sure if you ask him he will fill you in with the full story
2.8 Injection Special –
Full Tickford Dash & Centre Console
2.8 Cologne V6
17″ RS Sierra/Escort Alloys
Uprated & Modified Sound System
Highly Modified throughout including rear disk and pad conversion!
Mk1 '2000GT'  –
High Spec 2ltr Black Top Zetec
Uprated Running Gear
Original Paintwork
1998 Honda Blackbird Throttle Boddies
Photos: